71 years after its debut, Eleanor Lambert's Met Gala is still making waves as the number one fashion event in the entertainment industry.
The Met Gala pulls together stars, superstars and fans from the film, music and fashion industry.
These bourgeoisies always come dressed in exotic attires matching the year's theme. Camp: Notes on Fashion is this year's Met Gala theme as coined by Andrew Bolton, curator of the New York's Metropolitan Museum of Arts, where the gala is being hosted.
Fashion being at the forefront of every Met Gala, today's stars have a tendency to take their costumes to a whole new level, ranging from gorgeous, through weird, to straight out outlandish. Here are our top picks of stars with the most outlandish looks at the 2019 Met Gala.
Lady Gaga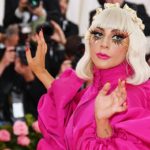 Connoisseurs of the singer, songwriter and actor know that the only thing certain about the "A Star is Born" star is the uncertainty of her fashion sense. While others must have been busy picking out the perfect outfit, Lady Gaga went the extra mile and came dressed in four layers of breath taking, alternating, pink and black attires. At first sight, she came across as a beautiful Disney princess with extravagant hips under a medieval French dress. Her aids then helped her out of the dress, revealing yet another black dress under. With her faux hips and the medieval black costume pulled off, she was now in a stunning pink evening dress, which was itself pulled off to reveal her in a black two-piece under a pair of fishnet hose. The fans went wild with every reveal, something only the Lady can pull off. We could get started on her extra long gold and black eyelashes, but then we will have to write a whole book. If putting on four costumes to a fashion event isn't outlandish, then I don't know what is.
Katy Perry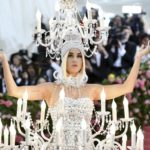 Lady Gaga may have sung "Chandelier", but Katy Perry was the actual chandelier of the 2019 Met Gala. The MTV Awards star literally dressed as a fancy chandelier, complete with connectors linking the set of glowing lamps on her head to those on her waist. She was so out of this world that everyone around her had to maintain a considerable radius to avoid accidentally bumping in to her attire. And just when we thought she had pulled her last trick for the night, she goes ahead and changes in to a human size burger. Her burger costume must have been very delicious, because Celine Dion couldn't resist having a taste, actually kissing her on the mouth.
Celine Dion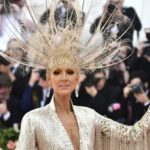 Talking about outlandish attires, Celine Dion's outfit was so unique that we don't even know what to call it. Let's just say it was eerily short and had lots of glittering tassels. She matched the dress with a dazzling peacock headpiece. In line with the camp theme, she said she came in a onezy she could actually sleep and wake up in… lol, classic Celine.
Jared Leto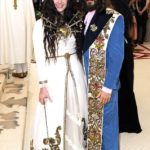 Who walks around with two heads? I will tell you who – Jared Leto. We all love Jared for his beautiful voice and looks, but who would have thought he fancied having two heads. Jared stepped on to Met Gala red carpet in a Gucci kingly gown, carrying a bust of his own head in one hand. The difference between his two heads was not immediately visible, except for when one of the heads was being tossed around by other celebrities. All hail king Jared Leto the double head king, first of his name.
Ezra Miller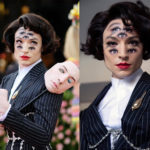 Staring at Ezra Miller for only a few seconds at the Met Gala red was sure to leave you needing an aspirin. The Justice League actor came dressed in a suit with an extended derriere, and a cosset frame worn on the outside of his jacket. What got everyone staring was however the optical illusion of seven eyes on his face. You will have to have come from another planet to need up to seven eyes. We are however thankful for the faux face he brought along which only had two eye holes for mortals like us.
Janelle Monae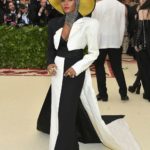 One will have to very outlandish for their cap to need three more caps. Yes, Janelle Monae came to the Met Gala with a hat that had three other hats fighting to be worn by it. That wasn't all. She also had one large eye on her left breast area with very lavish lashes, to catch all those trying to stare. I guess that's where her outlandish powers are.
Thank you for reading, and let us know in the comment section below which other looks came across as outlandish from the red carpets of the 2019 Met Gala.