G-Man aka Gez Varley first came to prominence as one half of the ground breaking electronic group LFO.
Their first release LFO "lfo" reached number 10 in the UK charts and went on to sell 150.000 copies worldwide .. ( 1990 ) (gez left LFO in 1996 and went on to do Gman as a solo project.
Over the years Gez Varley has recorded for labels like Warp,Force-inc,Gigolo,Swim, K7,white noise and +8 ….( to name but a few ), and worked with the following producers .. Mark Bell ,Richie Hawtin, Karl Bartos , Marco Carola and Thomas P Heckmann.
Gez has also remixed many people over the years including " Radio Head , YMO, Art of noise ,Afika bambaataa (planet rock) ,Laurent Garnier,Soft Ballet , Alan Wilder ( Depeche Mode), AUX 88…. and many others.
Gez has also played most of the top clubs world wide … such as " nature one germany ,sonar spain ,Berghain Berlin ,the omen Frankfurt , the orbit Leeds .. liquid room Tokyo , New music seminar ( new york)..and many more .
Over a carer of 23 years Gez has sold over 500 000 records world wide not including remixes and compilations and has had his music used for 2 computer games and 2 adverts ( VolksWagen Golf and also The " Hummer" car in the USA ).
www.g-man-techno.com
www.facebook.com/gez.varley
1989
In Leeds – UK, starts LFO along with Mark Bell and Martin Williams.
1990
Gez first comes to prominence as one half (with Mark Bell) of ground breaking Leeds based duo LFO.
Signs with the famous WARP Records and releases its first record LFO – LFO, selling 130.000 copies, reaching top 10 UK charts.
Remixes Nightmares on Wax's "Aftermath".
1991
Now as a duo with Mark Bell, LFO signs contract with Tommy Boy Records and releases 2nd LFO single "We Are Back", reaching 43th in the UK charts.
Release of "Frequencies" album, selling 80.000 copies in only a few months,
Remixes Recoil's "Faith Healer", and Wire's "Take It".
The duo collaborates with the work of acclaimed Karl Bartos (Kraftwerk).
Performes at the historic "New Music Seminar" in New York.
1992
LFO plays at one of France's first raves at La Defense building.
LFO is front cover of N.M.E. magazine, the first techno artists to do so.
Releases "What is House?" EP, reaching 47th on UK charts.
Remixes YMO's "Remix Compilation Track", and Art of Noise's "Robinson Crusoe".
1993
Richie Hawtin join forces with LFO and "LFO vs. FUSE" comes out on Quick 1 WARP sublabel, later to be released on Plus 8.
Remixes Afrika Bambaata's "Planet Rock" (the all time classic Electro record).
1994
"Tied Up" single comes out, reaching 56th in the UK charts accompanied by a video made by renonwed UK film director David Slade.
1995
Remixes Radiohead's "Planet Xerox".
Gez Varley debuts its first single as G-MAN, "Quo Vadis" celebrated as one of the "all time top 10 techno tracks".
"Quo Vadis" has 5 released remixes, and appears on Ritchie Hawtin's 1995 "Mix Mag dj mix".
1996
On his last work as LFO, Gez releases "Advance" album.
EP "G-MAN II" comes out and is aclaimed number 1 on "Groove Magazine", by Europe's top DJ Mag.
Brings in "Kusthi" as album vinyl version and CD version, this last one being a mix by Mark Gage.
Kusthi appears on Frankie Bone's top 10 playlist.
G-Man makes front cover of the cult "Magic Feet" UK magazine.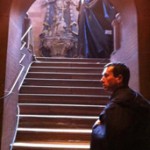 1997
Starts a sub-label of Swim Records "G Records", releasing "W Moon", "Shoota", "DJ Fallovie" and G-Man himself.
1998
Introduces K7's "Gez Varley Presents Tony Montana" album.
1999
Joined forces with Marco Carola to produce a few tracks later added to the "Beautiful" album.
Quo Vadis and El Jem come out on double vinyl remixed by Marco Carola, Gaetano Parisio and Acid Jesus.
Gez begins working closely with Force INC, releasing , and first GMR records.
2000
Knight Trax Volume I comes out on 12"
2000
Knight Trax Volume I comes out on 12"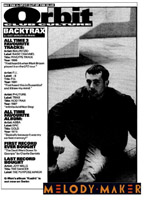 2001
Plays at Force Inc. showcase at Sonar Festival for an audience of 10.000 fans.
Introduces the legendary album "Bayou Paradis", being strongly acclaimed for this work by artists like Derrik May, Andrew Weatheral.
"Knight Tax volume II" comes out.
2002
Gez introduces "Avanti" album by German label Force Inc.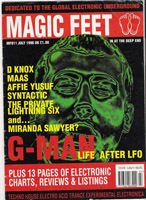 2003
The track "Simon from Sidney" is used by Volkswagen for a Golf TV advert in Europe.
2005
"Graphite" single comes out through italian "Defrag" label.
2006
Quo Vadis remixes is re-repressed.
"The Way you Move" and "Mr Loopy" singles come out, along with "Shon", through Sahko in sublabel Keys of Life.
2007
Quo Vadis repressed and re-released. Gez celebrates more than 500.000 copies in record sales throughout his carreer.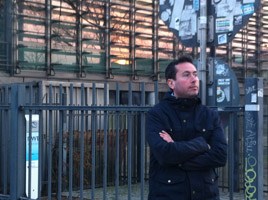 2011
G-MAN teams up with german Thomas Heckmann in the making of "Drive Inn" EP
Remixes Aux 88's "Shadow Dancing.
2012
Presents "Acrophobia" EP, through Sonic Groove, with some of the tracks being played by artists like Adam Beyer
G-Man branches out to dj on a few radio stations stations such as PhonanzaFM and Voice of Cassandra. Performs a retro DJ set in a "who's who" of eletronic music Retro Festival – UK, along with artist like CJ Bolland, The Orb and Bam Bam.