Before sharing tips on how to make a music video viral, it is important to understand what the term 'viral' means. Virality is defined as the tendency of content to be circulated rapidly and widely primarily using the Internet. A music video is said to go viral when it accrues millions if not billion of views. Some of the examples of viral music videos are:
Silentó – Watch Me (Whip/Nae Nae) (Official)
Beyonce – Single Ladies (Put a Ring on it)
Luis Fonsi – Despacito ft. Daddy Yankee
Studies prove that viral music videos have a positive impact on music sales. To an average person it might not seem so, but there is some logic to the madness.
What makes a music video viral?
1.    Unique video content

Studies undertaken by academics, based on observing top 20 music videos, have proven that unique content is a huge contributor to the virality of music videos. Music videos can be made unique by adding elements of laughter, surprise and irony. A good example is the "Weapon of choice" by Fatboy Slim.
2. Well planned music video premiere
Creating a buzz before a music video helps. Ok Go have honed the skill of music video premiere by creating excitement and enthusiasm about music video premieres for their Music Beats. Premiere of the "White Knuckles" music video back in 2010 was a great example of success as it has 23 million views on YouTube alone!
Music video premieres can be done inexpensively by having it at a local theater, a local music festival, on a popular music related web portal or even on radio station. Distributing an official press release, both offline and online boost the chances of music video going viral.
Using streaming video broadcasting opportunities, which are provided by a number of popular networks like Google, Facebook, Twitter etc., can be used to get more views of music video premieres.
3. Connect and Engage
Social networks like Twitch, YouTube, Facebook, Twitter, Instagram and Snapchat give the opportunity to directly communicate with billions of listeners and these should be taken advantage of by musicians. With music industry, specific social networks like Soundcloud and Deezer can be another source for increased views for music videos.  Online audio streaming services like Spotify and Pandora give musicians the ability to reach out to those who might not be aware of their content.
It is important to engage with the audience on social networks. Encourage the audience to communicate via commenting and direct messaging which is available on most platforms. Check and reply regularly to the comments to build a loyal fan base for the future, which ensures a ready audience for future content. Being active on platforms like Periscope and Reddit AMA's is another channel for improving the virality of music videos.
4. Involve influencers
Reach out to social media influencers of the industry. A mention by social media influencer can help in getting in front of their followers that are in millions. Create an outreach program and engage with the social media influencers before and after the music video release.
5. Do not have a huge budget for the music video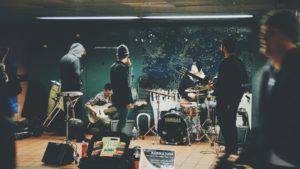 This sounds counterproductive, but having too big a budget for a music video can be problematic and has led to music videos not being made. In fact, Andrew Gregory of Auto-Tune goes to the extent of suggesting a $0 budget (which is an overstatement) for the music video! Having a limited budget for a music video forces you to be creative and innovative about the content of the music video that will make the video unique.
6.  Optimize videos for online video distribution networks
Optimizing the videos for video distribution networks like YouTube, Twitch and Vimeo is a no brainer. If the budget allows, engage a professional video marketer, or optimize the music video in-house before distribution. Since the video optimization techniques are similar for nearly all the platforms, optimization is not as complex as you might think.
7. Use Video Distribution Networks
If possible, use Video Distribution Channels like VEVO, Video Detective, AllMusic and Clear Channel for better reach.
8. Blog promotion
Promoting of a music video via a blog that is related to music also helps to Make a Music video viral. Find and use guest blogging opportunities to reach out to the community. Have an outreach strategy targeted at involving influential bloggers in the music genre of the music video. This will ensure that more people know about the music video.
Having quality music for the music video does not guarantee that the music video would go viral. Marketing, promotion and strategic planning help music videos to go viral. A systematic and thorough approach will do wonders to improve visibility and reach of the music video.