When it comes to rap,
it's generally best for people to stick to what they're best at. While anyone can learn a little bit, some people are just born with a flow that makes them able to dive into hip-hop – and most aren't.
It can be fun to see people give it a shot who aren't necessarily top-notch talent, but the industry has a pretty good way of filtering itself. Rap should be left to the rappers.
That said, every now and then a public figure displays real talent for hip-hop. We're not suggesting these people should be inking record deals anytime soon, but anyone who likes rap might be interested in checking them out.
Daniel Radcliffe (Actor)
Best known for playing the role of Harry Potter, Daniel Radcliffe has always been something of a fast talker in interviews and public appearances. So maybe it's no surprise that he unabashedly grew up a big Eminem fan. He got some attention for getting up on stage in an Irish pub in California to rap "The Real Slim Shady" karaoke-style, though he actually got out in front of the beat quite a bit. He was actually more impressive taking on Blackalicious's "Alphabet Aerobics" on Jimmy Fallon. He has some legitimate talent, which makes you wonder just how many kids out there might have a decent flow by virtue of growing up rapping along to Eminem radio hits.
Damian Lillard (Basketball Player)
Lillard might be the most famous celebrity rapper going right now, who isn't primarily a professional rapper of course. Lillard actually has released albums, and has even worked with the likes of Lil Wayne in the process. While plenty of athletes try their luck in the booth, Lillard is a rarity: a legitimate star basketball player who's got the chops to succeed in the music industry if he ever wants to change course. If you're curious, look him up as Dame D.O.L.L.A. (granted, he could use some work on the name).
Lupita Nyong'o (Actress)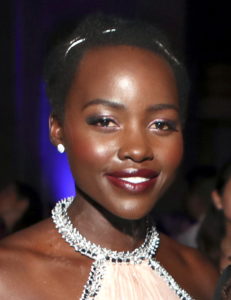 Lupita Nyong'o is pure fun. She's an Oscar-winning actress at just 35 years old, and now she's got an ongoing role in the Marvel Universe, as Nakia in Black Panther. She also seems about as genuine and down-to-Earth as they come when she's off screen, including when she's freestyling with co-star Letitia Wright (whose infectiously playful personality stole the show in Black Panther). Neither one of them is bad, but Nyong'o sounds like she's spent a little bit of time working on verses before, and we'd actually be curious to see what she could do if she put some time and energy into it.
Melvin Ingram (Football Player)
Melvin Ingram is one of the top defensive players in the NFL, and also happens to be nipping at Lillard's heels as probably the second most respected athlete rapper. His album "King Talk" got some good attention, and he could probably do well for himself in the business if he wanted to. For now he's still in his prime, though his San Diego Chargers' defense may not be what it was cracked out to be. In assessing Week 2 NFL storylines through its sports betting content, one site noted that the Chargers were embarrassed on defense by the Chiefs in Week 1. If that keeps up, maybe we'll get more albums from Ingram.
Millie Bobby Brown (Actress)
Millie Bobby Brown isn't necessarily a household name yet, but if you don't know the name you'll probably know the character. This is the young woman who plays Eleven in the Netflix show Stranger Things, and she's legitimately awesome at rapping. Only 14 years old, Brown sounds as if she could record an interesting album right now. To date however her main hip-hop accomplishment was a shockingly good rendition of Nicki Minaj's verse from Kanye West's "Monster," which she performed while shooting silly string at her co-stars in a segment on Jimmy Kimmel. Whatever works.