The month of June 2018 could be termed "Drake's month" in the Hip Hop and RnB sector of the music industry.
The superstar has been making all kinds of waves, headlining all major blogs and major news outlets for reasons that could be classified as good, not so good and weird.
The Good
Let's begin with the good. How do you say good in Drake's world? I'll give you a hint, it has God in it. Good in Drake's world sounds more like "God's Plan", and will set your bank account back by an enormous $1,000,000. As the story goes, and as confirmed by the artist and his production crew at the start of the music, the entire budget of the song, which was a whooping "$996,631.90" was completely given away in charity. Drake spent every second of the entire song putting smiles on the faces of people who were in need of financial rescuing. He provided toys for hundreds of kids, let shoppers get stuffs on his tab, gifted cars to a couple of people, donated to charity, and in each case, he give a piece of himself in comforting hugs, which left his pretty stunned fans dumbfounded and in a pool of their own tears.
As one would imagine, the song pulled in loads of empathy and struck gold on the boards, ranking number one across several music charts in the world. Judging by its 688,838,888 YouTube views, one can only conclude that charity is a fine investment.
The Not so Good
Where do we begin from with Drake? Ermmm… Got it!!! His baby mama from 2017 which we just got to know. Having a hidden baby isn't exactly what got tongues wagging, it was the fact that the baby's mama is a former adult film actress. I know we live in an age an time when we are expected to be more accepting and accommodating of everyone, but Drake's baby mama being an ex porn actor didn't quite go down well with a lot of his fans. Perhaps the most affected where parents of younger fans who had some explaining to do. The star himself seem to have sensed this as rumors spread of him asking for a paternity test. Good news though, he accepted Adonis as his son in his "Scorpion" album.
Not so long after the world was privy to his baby mama status came the rap war with Pusha T. We got to have our very own modern day 2pac and B.I.G feud, we are only grateful it ended at dissing tracks with no one slinging shots. Here is the short of the story, Pusha T released a song "The Story of Adidon", in which he calls out Drake on his poor treatment of his son and his baby mama Sophie Brussaux. He goes on to talk about Drake's father in not so colorful words, making reference to the opinion that Drake isn't black. Pusha T lets Drake know that his son Adonis deserves better than to have an Adidas sneaker line named for him "Adidon". Drake lashed back with a music of his own, saying he isn't hiding his son, but that he is protecting from the world and people who just want to debate about him "Pusha T".
The Weird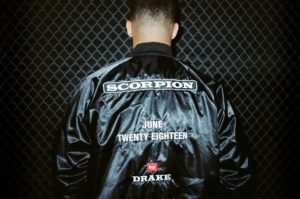 Let's talk about Drake's "Scorpion" album. The album in itself is a fantastic piece with 25 incredible songs, but one song in the album has been making more waves than the others, it is the piece titled "Don't Matter". In this song, Drake managed to feature Michael Jackson, which is itself an incredible fit. Just a recap for those who have being leaving in outer space or under a rock for the last decade, MJ died on June 25th 2009. An event that shattered the hearts of millions of fans the world over, driving some to their own graves. To put it in to perspective, the King of Pop who is loved by millions and held as a music icon to this day got featured by Drake, 9 years after his death. Colossal!!!
Massive reactions to the song have been pouring in from all over the world, with people questioning how drake adjust the impossible. Listening to MJ's voice one more time in fresh song has sent some in to tears, in a reaction that only MJ could pull from the afterlife.
So how did drake do it ?
Long story in one word, SONY. Still don't get it? SONY entertainment still has a huge cut through rights in every Michael Jackson sold to this day, and there are apparently lots of songs that MJ recorded, but which never got released. So what Drake did is, he got his people to meet with Sony and reach an agreement on a stanza from one of Jackson's lot of unreleased songs, and BOOM!!! Drake featuring MJ is the result.
So who do you call if you need to feature a death man in your song? Let me know your thoughts in the comment section below.