Summer just got here, and the desire for music and concerts is becoming increasingly alive among fans.
Summer festivals are therefore the ideal destination to combine a journey with the unstoppable desire for music.
As is the case annually, there are several designated destinations all over Europe, varying according to the musical genre you love. The ticket market for major concerts, events and festivals is not going through a crisis; on the contrary, it successfully makes its mark every year. In recent years, tours have become increasingly important in the earnings of artists, who can now increasingly depend less on revenues from sales of physical albums. While streaming, which in 2018 changed the rules of counting, offers modest revenues even for those who can boast of millions of listeners of their songs.
That's why for some years now, international big names have been making regular stops in and around Europe: in 2018, legendary rock names such as Roger Waters, Bob Dylan, Ringo Starr, Pearl Jam, Guns 'N' Roses, Foo Fighters, Depeche Mode, Iron Maiden, Deep Purple, Metallica, Rod Stewart, David Byrne and King Crimson will perform on the Peninsula.
Rock
in particular is one of the genres most loved by both the young and the not so young. Perhaps it is the latter category that has the most influence on the former in a sort of chain reaction, in the preservation of one of the most famous and listened to genres. Those who lived in the golden years of rock will surely remember some songs by heart because they were definitely the soundtracks of their best years.
There were those who livened up their evenings with heavy rock, or those who perhaps preferred something more quiet and catchy. There were also those who would play Pink Floyd, and absorb all the lifeblood from it for meditation and escape into every possible parallel world. But what would the same people listen to today? What of today's rock? Its soul is perhaps definitively as dead as its identity. Those who used to enjoy the Ramones Punk guitar now get confused, unless you return to once again endlessly listen to them, until you know all the tracks perfectly by heart, miming the "invisible guitars" on public transport or simply at home, moving from room to room and jumping with joy at the start of a solo. Somehow, listening to it in your living room at full volume leads to what I call "positive madness", a sort of energy that is infused into the spirit through the notes.
Born in the early 1940s, Rock'n'Roll
has brought about an upsurge, not only in music, but also in generational music, reaching its most extreme peak in the late 70s with the involvement of three generations and a participation in concerts never before seen in the history of music. It's thanks to the involvement of the masses that rock finds its definitive crowning, and like every paradox, that has inhabited this world since its origin, even the beginning of its end.
When the word "Rock" is uttered, musical instruments do not immediately come to mind, but icons. Elvis, for example, is not only a man, a singer, a musician, but an indelible symbol of a historical and musical period that is still missed to this day, even by those who are not his contemporaries.
Today, what's left of rock seems to be just a mere reminiscence of what it once was. The masses and icons have remained, which, like a sort of infinite loop, bounces off the radios, earphones or CD players of fans. The explosion that in the '70s led to the success of new sub-genres such as "progressive", led by King Crimson, Yes and Genesis, or hard rock, whose exponents remain Deep Purple, Black Sabbat, and Led Zeppelin, seems to enjoy even today an unparalleled euphoria. As it however often happens, after so much success we arrive at an implosion, accompanied by a new revolution. For rock music, this was Punk, which arrived after the first half of 1970. Among the founding fathers is Ramones, but it is teenage anger and anarchy that created bands such as Sex Pistols and The Clash. It starts from the basics of hard rock and metal but with a spasmodic attention to the look. Tight leather pants, unique jackets, crazy hairstyles, riffs and guitar solos that acquire particular playing speed distinguish the Glam and the Hair metal. Motley Crue, Twisted Sisters or Poison are also presented, as are Van Halen and Bon Jovi.
There is also space for the more "traditional" Guns n' Roses or Def Leppards, which are capable of filling large arenas. There are as well those who began from the prominent names of '70s English metal, but on which they created their own style: Trash Metal (Metallica, Slayer, Anthrax, Megadeth).
The rivalry between glam and thrash is undoubtedly one of the topics on which most people wrote in the 1980s. These years also allow us to witness the fusion between funk, rap and heavy metal. The Red Hot Chili Peppers are the champions of this genre. At the end of the decade, we started talking about Alternative rock, focusing on bands like REM, Sonic Youth and then Nine Inch Nails. The era of the 1990s is the period of the alternative revolution. It starts with sensational albums such as Ten by Pearl Jam or Blood Sugar Sex Magik by Red Hot Chili Peppers, but especially with the immense grunge of Nirvana by Nevermind that with guitar and distortion in the spotlight will sell more than 30 million copies worldwide. Staying with the grunge, Alice in Chain and Soundgarden also had the strength to stand out. The crossover explorers of recent years have been groups such as Rage against the machine, Linkin Park, Limp Bizkit and Korn with their nu metal.
Contrary to what many people think, rock is not dead, although it is true that there are many young people who go around with band t-shirts from the '70s and '80s, with their playlists full of old-school classics. These were the years of the segmentation and explosion of an incredible amount of subgenres, almost as if one were looking for "custom-made". Just think about the amount of Heavy Metal styles: death, black, hardcore, just to name a few of the latest ones, and bands with faithful fans like Children of Bodom, Cradle of Filth, Cannibal Corpse or Slipknot. Alternative rock is still active, but nowadays, it is very diversified and distinguishable, just think of bands such as Foo Fighters, Coldplay, Incubus and Nickelback.
Rock music has gone through many eras and decades
and perhaps is no longer as influential as it was in the past, but anyone who loves even contemporary pop music or hip hop should not forget the gift brought to music by artists such as those mentioned in the 70s and 80s. Every single character or group, who has been or is at the top of the media or multi-awarded charts, whether consciously aware or not, has inevitably been influenced by what has been created and listened to in past decades.
It's interesting that despite the generational evolution, the change in the way we listen and make music, rock is still loved and followed. A kind of return to the origins dictated by the need for rebellion makes its way into the minds of the most passionate, calling them back annually to festivals located around the world.
Their aim is to recreate, at least in part, the atmosphere that was breathed between 1970 and 1980, making it clear that despite everything, rock is not yet dead.
Rock Festivals summer 2018 in Europe
Among the main events of summer 2018 there are some that the most attentive and passionate cannot and should not miss, taking advantage of this to also take a trip across Europe.
The "Sweden Rock Festival",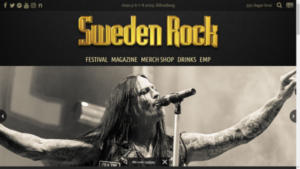 which will take place from June 6 to 9 in Norje, Sweden, is one of the most famous and anticipated Rock/Metal festivals. Its first edition was held in 1992 and since then, it has become an annual landmark for lovers of the genre. From 2003 to 2006, it had already hosted some of the greatest and most unforgettable metal and rock shows you can remember. Since 2007 the festival has been extended to four days and will host about 120 groups / different artists. This year, the names of Ozzy Osburne and Iron Maiden stand out among the guests.
Website: https://www.swedenrock.com/
In the UK, the "Isle of Wight Festival"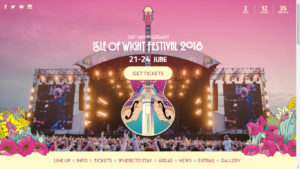 will take place, from 21st to 24th June. The "robbers" from all over the world will take part in one of the most famous events that, since the '70s, has hosted great artists of the caliber of Jimi Hendrix and David Bowie. Some of the artists confirmed for 2018 are Depeche Mode, Kasabian, Liam Gallagher, and Van Morrison.
Website: https://isleofwightfestival.com/
Download Festival UK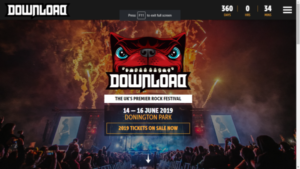 Also in England from the 8th to the 10th of June is the Download Festival. To be precise, the appointment is at Donington Park in Leicestershire, where artists such as Avenged Sevenfold, Guns'n'Roses, Marilyn Manson and Ozzy Osbourne will perform.
Website: https://downloadfestival.co.uk/
Glastonbury Festival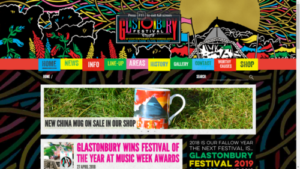 To be definitely missed in the 2018 draw up of events is the Glastonbury Festival, which usually takes place in the Avalon Valley in Somerset. The largest Rock event in the world takes a year off, to return to the charge in 2019.
Website: http://www.glastonburyfestivals.co.uk/
The Nos Alive Festival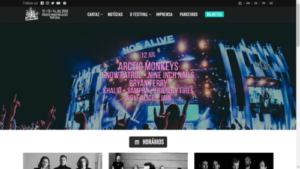 will be held in Portugal from 12 to 14 July. A new appointment with the festival of rock, indie and pop music in Lisbon. Among the guests expected are Queens of The Stone Age, National, Pearl Jam and Snow Patrol.
Website: http://nosalive.com/
The "Firenze Rock Festival"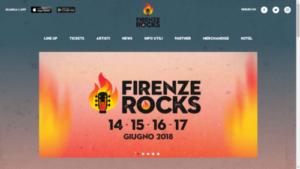 will be held in Florence from 14 to 17 June. The event that will host the Guns n'Roses, the Foofighters, the Iron Maiden, the Avenged Sevenfold, and Ozzy Osbourne, will be held at the Visarno Racecourse. Surrounded by greenery and with a large capacity, the area, immersed in the Cascine park, is a summer theater perfect for hosting big concerts and many other events, to live four days in another world lulled by various genres and subgenres of Rock, in the spirit of rock and with those who love rock.
Website: http://www.firenzerocks.it/
Rock in our day
Rock still lives in the hearts and minds of those who preserve its ideals and spirit. Its soul exists even if it is no longer the dominant culture, it has been broken up into millions of subgenres that like dust rest on what was once called the "true rock culture". The dust, however, remains only an ephemeral coating that conceals something even more. Once the particles are removed you can still see the strength of a timeless genre.
The problem, however, is that rock is the music of young people par excellence, but young people are no longer what they once were. Technology is now the master, and the mirror for bringing out new fashions, that right or wrong influence children who then, becoming teenagers, will bring with them a different culture from that of their fathers. It is so difficult to talk about music education if to feed a confused market with few ideas, instead of the intellectual honesty of the freshest minds, is that now perennial fair of illusions that, unable to protocol, makes music a great slot machine from which almost never comes anything, but if by chance you get a shot, there is also the possibility of getting rich.
Young people change, music changes, and so too does the perception and culture of rock, but the festivals and events that seek to revive the voices of rock remain. A symbol of something that continues to be handed down and transmitted every day, even if the methods and methods used are different from those of the past.