The foolish festival this year will be held not only in the Black Rock Desert of Nevada, but also in Europe, specifically in the Netherlands.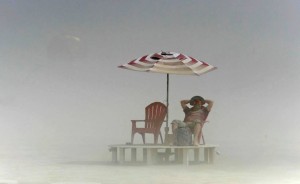 Burning Man, the famous festival/experiment of counter-culture that since 1991 gathers in the Nevada desert, arrives in Europe. The spectacular expanse of tents and burnt wood sculptures will arrive at sunset in Veluwe in The Netherlands from 29 to 31 July, through fields, forests and canals, typical of the Dutch landscape. The idea of the organizers is in fact to make Burning Man a traveling festival with worldwide events.
In Nevada Black Rock City becomes a huge city, which gather each year 70,000 people. At the end of the week we are seeing a big party and the burning of all the wooden structures, with the involvement of all the participants in a collective ritual.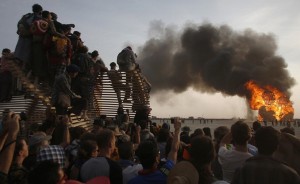 As you can imagine, the conditions in which they live during the eight days of Burning Man in Nevada are certainly not for everyone: high temperatures during the day and night temperature excursion that brings the thermometer down to 5 degrees, storms sand, danger of dehydration. For this, the organizers specify on the ticket for the event disclaim any liability.
The festival, for the first time in a European version, will touch the fields, forests and the typical channels of the Dutch landscape. This is thanks to the will of the organizers to make the event open to the world, so that it becomes itinerant, to travel on our planet by promoting the Burning Man philosophy.
Anyone who want to attend the Burning Man in Nevada, and soon in the Netherlands, can simply do so by visiting the Facebook page of the event. Here you can receive all the necessary information and seek help from other participants in the European festivals.
As in its American version, in the Netherlands there won't be performing great music artists neither will be put on display famous European art works. On the contrary, every person can exhibit its own program in front of a huge audience.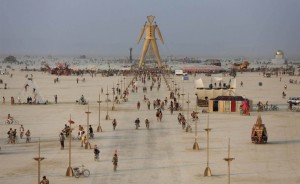 No performance will be banned. All artwork will be considered with the utmost respect. As previously, each participant in the festival has the full freedom of presentation, speech and thought. However, in its European version, the festival will last only three days, instead of the 8 days of the American version. In addition, in Europe it won't be built the Black Rock City, a town specially prepared for the event and dismantled once the festival ends.
The rules of the Burning Man Festival will remain unchanged even in the Netherlands. You can not buy or sell anything. Otherwise you can be excluded from the festival. The only act of sale can regard ice and coffee.
All you need for the three days of the event each participant must bring it from home. In addition, each "burner" must take away all their waste and leave nothing in the camp he has been staying.
At the end of the festival neither the slightest trace of human presence can be present on the premises where the event took place. This philosophy, which originated in the United States, is also valid with regard to the Netherlands. At the end, the organizers will evaluate the possibility of organizing other dates in Europe