There will be Guns N' Roses with Axl Ros and Slash, but also LCD Soundsystem, Calvin Harris, Chvrches and Sufjan Stevens
The Coachella Valley Music and Arts Festival, one of the most important music festivals in America that takes place every year in Indio, in South Carolina, spread the lineup of the 2016 edition. From 2013 the festival unrolls in two weekends, with the same playlist repeated twice: this year will be from 15 to 17 and from 22 and 24 of April. The three headliners of this year, that are the artists with the most important concerts during the two sessions of the festival, are LCD Soundsystem, Guns N' Roses (in a team with Axl Rose and the guistarist Slash, whom we will talk later on) and the dj Calvin Harris.
Here is the complete lineup for the Coachella Festival 2016
Sufjan Stevens, M83,Purity Ring, Underworld, Ice Cube, Grimes,Unknown Mortal Orchestra, ASAP Rocky, Wolf Alice, Beach House, CHVRCHES, Run the Jewels, Death Grips, Miike Snow, Flume, Foals, Rancid, Courtney Barnett Bat For Lashes, Savages, Deerhunter, Vince Staples, Dan Auerbach's The Arcs, Hudson Mohawke, Edward Sharpe and the Magnetic Zeros, Nathaniel Rateliff & Night Sweats, Deafheaven, Alessia Cara, Rae Sremmurd, HEALTH, Rhye, Silversun Pickups, Lush.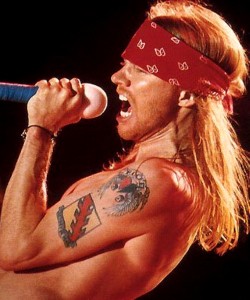 "Guns N' Roses will play at Coachella 2016!", announced Axl Rose on his Twitter profile. Now the new is official: separated in 1993, Axl and the guitarist Slash will play together again on the californian stage with Guns N' Roses. Slash also posted the new on his facebook profile, publishing on Instagram the 80s logo of the band with the Coachella poster on the background. Also the bassist Duff McKagan shared the image and he's considered enlisted for the event. The announcement should have been arrived, as Billboard anticipated, during the Jimmy Kimmel show on the 5th of January but Axl cancelled his participation on last minute. The frontman should have revealed more particulars about the reunion and the participation to Coachella but the reasons for his absence aren't still clear. The group is already negotiating the cachet with the promoters and they're talking about 3 millions of dollars per concert, with tickets going from 250 to 270 dollars. In the meantime on the web fans go insane, thanking their idols after years of wait.
Now we only wait to see what happens after this first step: will the californian festival remain an unicum or is it a prelude for a second life of the band that between the 80s and the 90s branded rock music like anyone else? There are voices talking about a North American tour of 25 dates and ad album in view. Knowing about the intercourse between Slash and Axl, we're satisfied for the moment with the Coachella shows and it's better we make no plans for the future. For now… Welcome to the Jungle.
From the 6th of January you can buy tickets for Coachella Festival here!