Released to the public last summer, "Wide Open", the collaboration between the californian singer and the british big beat duo included in the Chemical Brothers album "Born in the echoes", came again to worldwide attention: to the track, realized by Tom Rowlands and Ed Simons with the collaboration of Beck, has been added a video now available on the YouTube official channel of dj and producers.
The clip has been directed by Dom&Nic, initials of the british directors Nick Goffey and Dominic Hawley, that already worked with the dance duo, between others tracks "Setting Sun", "Midnight Madness", "The Salmon Dance", "Believe" and the notorious "Block Rockin' Beats".
In the public announcement that presented the work we can read:
The idea of Dom&Nic was that they had to melt organic to mechanic, taking inspiration from the cellular structure: their special visual effects team created a digital model of a dancer, Sonoya Mizuno, formed by 107 single anatomic structures, and a specific tool that made possible the continuous transformation of the protagonist as shown in the video.
CHEMICHAL BROTHERS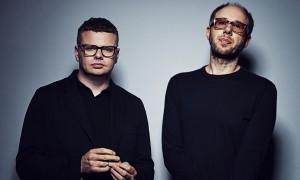 The Chemichal Brothers are a british duo of electronic music, composed by Tom Rowlands and Ed Simons. With Prodigy, Fatboy Slim, Crystal Method and few other bands, they're the pioneers of big beat and they became famous for they high-quality live set.

The history of Chemical Brothers begins in Manchester at the end of 80s, when Tom Rowlands and Ed Simons, two students of the history faculty, meet each other. They're both passionate of acid house, hip hop, techno and american rock, the most weird one. Tom is part of the group "Ariel", but the same musical tastes put the two in contact and so they start to mix some music together at parties. They name themselves Dust Brothers and at the end they record the track "Song to the siren". After the release of this first track with Junior Boys Own label (Andrew Weatherall) and 2 EP with a totally odd loop ("14th century sky" and "My mercury mouth"), Tom and Ed remix tracks by Manic Street Preachers, Charlatans, Justin Warfield, Leftfield, Primal Scream and others. At that point begins a competition without precedents among record companies to make them sign a contract. In 1995 they sign with Virgin, they create their mark Freestyle Dust and they release a punk rock hash of incredible impact "Leave Home", with which they enter in the Top 20. After the limited run EP "Loops of Fury", disco hit, (20.000 copies sold in 4 days), in 1997 thet release DIG YOUR OWN HOLE, preceded by the lucky single "Block rockin' beats", and the next year is the time of "Borther's gonna work it out". You know the rest of the history, isn't it?