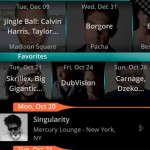 From Electric Daisy Carnival to Tomorrowland, there are way too many festivals for all of us of EDM Concerts to keep up with. We do our best to keep up with announcements through various media outlets and extensive internet research, but for some of us we just keep missing the early bird promo periods and only find out about shows at the very last minute when tickets are completely sold out.
Luckily, there are several EDM apps on the market that come highly recommended and do well in keeping you in the loop with festivals, early bird tickets and the like. These apps are a godsend for EDM fans, and purchasing tickets, following tours and finding new DJs have never been easier thanks to advances in mobile technology. Increased mobile internet capabilities have emerged as the single most powerful trend across the internet landscape, as reported by the managers of the cross-platform entertainment portal Spin Genie, making it pretty evident that mobile apps are quickest way to search for all the latest EDM news and shows.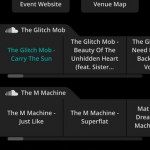 One app in particular that you should be downloading is EDM Concerts. Using your location, the app can filter all the upcoming shows in or surrounding your town so that you're always up to date with local talent and never miss out on seeing your favorite DJ live. Rather than purely being an app for music news, it also doubles as a music player with all the latest tracks from major producers like Tiësto and Avicii to underground artists across the sub genres, including dubstep and trap.
Although possibly the number one feature that we look for in a EDM app is access to the biggest music festivals. EDM Concerts lets you browse producers touring the United States and Canada as well as provide authentic ticket links for all most anticipated fests and live performances at nightclubs and other music venues. It's definitely a must-have for the hardcore raver according to customer reviews.
Download EDM Concerts from the App Store or check it out on Google Play so that you never have to miss out on the best music events.